Media Coverage
---
Melba Moore Has Hip Surgery
January 9, 2015
Melba Moore Has Hip Surgery
By Robin Frank

August 2 – August 8, 2007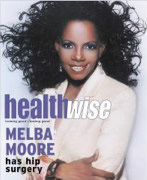 According to the official web site of Tony-award winning actress Melba Moore, "this multifaceted artist/philanthropist is always reaching deeper, pressing harder and ever challenging herself." A new DVD, featuring a live performance of her hit songs at Lincoln Center, is scheduled to be released this week.
Up until last October, though, Moore seriously doubted she could keep up her exciting, but hectic schedule. She suffered from such severe hip pain, it woke her up at night and she walked with a serious limp.
It turned out she had advanced arthritis, but didn't know it until she went to see Dr. Geoffrey Westrich, an orthopedic surgeon, with offices in Fresh Meadows, and at the Hospital for Special Surgery in Manhattan.
"I really didn't know what osteoarthritis was. I tried acupuncture, supplements and exercise, but nothing helped," Moore says. After seeing Westrich, she learned her arthritis was so advanced, joint replacement was her best option to relieve the pain. She had the surgery last October.
In the operating room, she got a surprise. "All of sudden, I heard music playing in the background, and it really made me feel good." The anesthesiologist had put on a CD of one of her hit songs, "You Stepped into My Life."
When Moore woke up from surgery, she said, "I immediately noticed the pain was 20,000 times better. Now I have my life back. I also had a relatively fast recovery because I kept myself in good shape prior to the operation."
Westrich, an Associate Professor of Orthopedic Surgery and Director of Joint Replacement Research at the Hospital for Special Surgery, agrees that being in good physical condition before the operation facilitated her recovery. He also attributes faster recovery in hip replacement patients to improvements in the way the surgery is now performed.
"In the past few years, major advances have revolutionized joint replacement," he says. "Techniques such as minimally invasive hip and knee replacement achieve the same goal as the standard operation, but with a three- or four-inch incision, as opposed to 12 or 14 inches." Only specialized orthopedic surgeons with expert training perform minimally invasive joint replacement.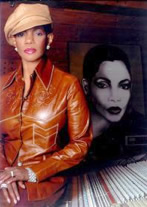 Aside from the better cosmetic result and quicker recovery, the smaller incision generally results in less pain, a shorter hospital stay and easier physical therapy, according to Westrich. The operation entails replacing the painful, arthritic joint with a fully functioning hip or knee implant.
Another advance concerns the hip implant itself. Westrich says a newer device made of ceramic materials is expected to last longer than the traditional hip replacement made of metal and plastic. "If an implant can last 20 years or more, total hip replacement becomes a viable option for younger patients suffering from arthritis."
As for Melba Moore, she said she is delighted she had the surgery and her active, busy life is back to normal. "When people are in pain, they tend to guess about what could be wrong. They really need to get the right care so they don't suffer needlessly."
« Back to News