---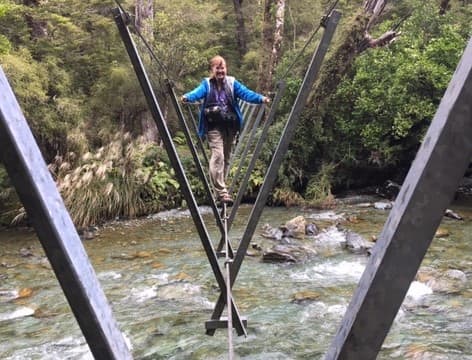 Diane Hitchcock tackles a walk wire bridge during a recent trip to New Zealand
Adventure-Lover Says Yes to Knee, Hip and Spine Surgery at HSS So She Can Live Life to the Fullest
(New York, N.Y. January 28, 2020.) Over the years, Diane Hitchcock has kept in touch with Dr. Geoffrey Westrich, the orthopedic surgeon who performed her knee replacement surgery in 2009. She recently sent him the latest photo of herself rock-climbing, a sport she resumed five months after her surgery and continues to enjoy today at age 66. "It's gratifying to see that patients are happy and continue to do well for years after surgery," says Dr. Westrich, director of research in the Adult Reconstruction and Joint Replacement Service at Hospital for Special Surgery (HSS) in New York City.
"I have always been a very active, outdoorsy nature lover, enjoying activities such as mountain climbing, biking, kayaking and rock-climbing all around the world with my family, as well as ballet dancing," Ms. Hitchcock wrote on "Back in the Game," the HSS patient blog. "By 2009 I was in constant pain and barely able to walk, much less dance or climb. Within a month of my total knee replacement I was back in the ballet studio doing my barre exercises and I climbed Mt Katahdin in Maine, crossing the 'Knife's Edge' 11 months later. Dr. Westrich truly gave me back my life! With my new knee I was able to take a rock-climbing trip to Thailand in 2014 to celebrate our children's' PhDs! What fun!" 
Over the years, Ms. Hitchcock has enjoyed numerous active vacations with her family. She has visited Zimbabwe, Botswana, Borneo and other exotic locales. In addition to climbing, she continues to go hiking, bicycling and has taken up snorkeling. She recently returned from an adventure vacation in New Zealand with her husband and daughter, which included mountain climbing and kayaking.
Ms. Hitchcock is among a growing number of baby boomers who refuse to slow down, despite joints worn out by years of activity, an injury or the passage of time. "I'm seeing more people in their 40's and 50's who refuse to be sedentary and, like Diane, will do what it takes to enjoy their active lives," Dr. Westrich says. "Over the past few years, advances in joint implant design and surgical technique provide even more options for younger patients."
Robotic-assisted surgery and a newer cementless implant could lead to a longer-lasting knee replacement, according to Dr. Westrich. Robotic-assisted surgery allows for optimal alignment and positioning of the implant – pinpoint accuracy that could potentially improve the longevity of a knee (or hip) replacement. The cementless knee replacement is another innovation, he says. In a standard cemented knee replacement, the components of the implant are secured in the joint using bone cement. It's a tried and true technique that has worked well for decades. But eventually, over time, the cement may start to loosen from the bone and/or the prosthesis. With the newer cementless implant, the components are press fit into place for 'biologic fixation,' which basically means that the bone will grow into the prosthesis. Dr. Westrich says this could also lead to a longer-lasting knee replacement, perhaps even for patient's lifetime.
"For younger people coming to us for pain relief and to return to activities they enjoy, there's no reason to tell them to stay on the sidelines and wait until the pain becomes unbearable before they have a joint replacement," he says.
Along with Dr. Westrich, Ms. Hitchcock credits two other highly specialized orthopedic surgeons at HSS with helping her maintain her active lifestyle. In addition to her knee replacement at age 56, she had a spinal fusion in 2017 and shoulder replacement surgery in 2018.
She says each surgery has helped her enjoy life again. "Never once did any of my doctors at HSS express the notion that these goals were too extreme for someone my age," she explains. Major surgery is never a walk in the park, but Ms. Hitchcock didn't hesitate. She took each surgery and recovery very seriously, taking time off from work and vigorously adhering to her physical therapy regime after each procedure. She speaks very highly of her HSS physicians and says she had excellent outcomes for both her spine and shoulder surgery.
And now she is ready for her next trip: a vacation with her husband and daughter in New Zealand for another adventure that will include mountain climbing and kayaking.
Dr. Westrich applauds the motivation of Diane Hitchcock and others who wish to enjoy the physical and psychological benefits of exercise at every age. "Why give up years of an active life when newer options are available to allow patients with arthritis to live life to the fullest?" he says. "With the proper orthopedic intervention, we are now able to relieve their pain and give them back a previous active lifestyle they want and deserve. And with the cementless knee replacement and robotic-assisted surgery, they may have a joint replacement that could last a lifetime."