---
Specialties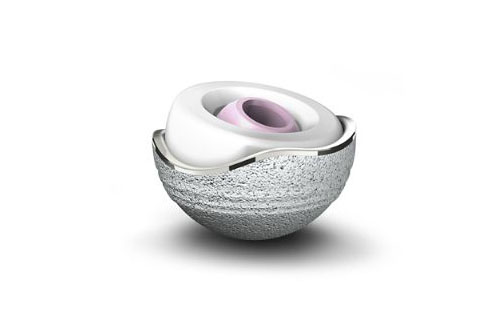 A hip replacement implant is a ball‐in‐socket mechanism, designed to simulate a human hip joint. In a total hip replacement, damaged bone and cartilage are removed and replaced with components that include a stem that inserts into the femur (thigh bone), a ball that replaces the round head of the thigh bone, and a shell that lines the hip socket.
"Although total hip replacement is one of the most successful and life‐changing operations performed by orthopedic surgeons, there are occasionally serious complications such as a dislocation," says Dr. Geoffrey Westrich, Director of Research Emeritus in the Adult Reconstruction and Joint Replacement Service at Hospital for Special Surgery in New York City.
Dual Mobility to Reduce Risk of Dislocation
A newer type of implant known as "dual mobility" lowers the risk of dislocation, according to research conducted by Dr. Westrich and published in respected medical journals. Dual mobility refers to a bearing surface of the implant – where the joint surfaces come together to support one's body weight.
"Dual mobility implants provide an additional bearing surface compared to a traditional implant," Dr. Westrich explains. "With the dual mobility hip, a large polyethylene plastic head fits inside a polished metal hip socket component, and an additional smaller metal or ceramic head is snap‐fit within the polyethylene head. So there are two areas of motion, and this improves range of movement for patients and reduces the risk of dislocation."
Dual Mobility Hip Implant for Younger Patients
One study by Dr. Westrich and colleagues found that dual mobility hip implants reduced the risk of dislocation in patients under 55 years old with excellent results. Younger patients are at higher risk of this complication because they tend to be more active and put more demands on their hip after surgery.
The study compared outcomes in two groups of individuals receiving a total hip replacement. One group of patients had a traditional hip replacement, and the other group received the dual mobility implant. There were 136 individuals in each group with a mean age of 48. After three years, Dr. Westrich and his colleagues found that the patients who received the dual mobility implant had no dislocations. In the group receiving the standard implant, five percent of patients had a dislocation and needed a second surgery.
Dual Mobility Implant for Revision Surgery Patients
Dr. Westrich's other study looked at the use of the dual mobility implant in individuals who needed a "re-do" or revision of their original hip replacement after multiple dislocations. These patients are also at higher risk of dislocating their hip again after revision surgery.
The study included 370 individuals with an average age of 66. At the average follow-up of three years, revision surgery patients who received the dual mobility implant had increased stability, lowering the risk of dislocation, without compromising hip range of motion. Dr. Westrich's research found that the dual mobility implant eliminated dislocations in 95 percent of these patients.
"While more research is needed to see how patients receiving a dual mobility hip replacement fare over the long term, both studies show that this implant provides a clear benefit in the first few years after hip surgery," he said.